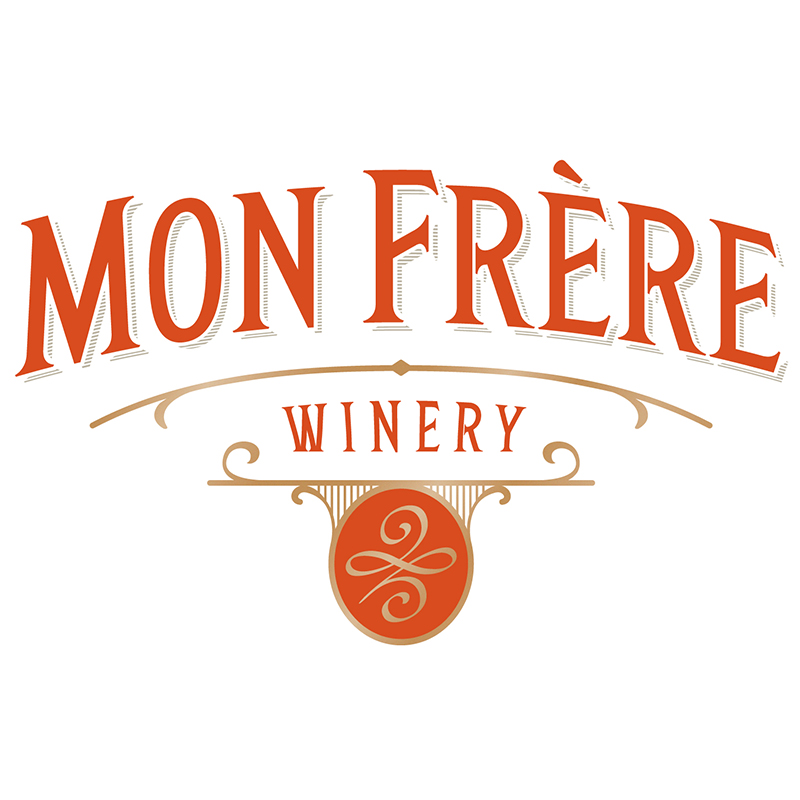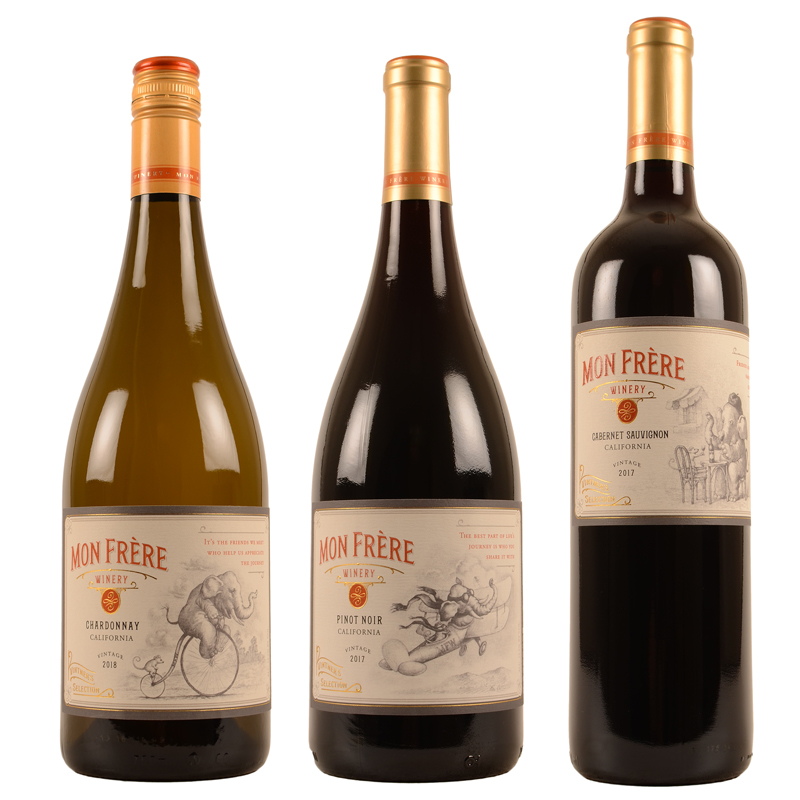 The Mon Frère Winery originated from a collaboration between one of the most legendary winemakers in America, Tom Hinde and perhaps one of the most important wine-related families after the prohibition in twinties, the Taub family. "Mon Frère" is an ode to those special and rare friends who feel like family and for whom you are happy to bring out your best bottle. The wines are incredibly versatile and a testable proof of what their grape can offer. The presentation honors in a pleasant way what friendship has to offer in all its forms ... In good and bad times!

It is not a unique vineyard or winery, but by utilizing vineyards in different locations in California regions and different clones of the same grape, they work optimally towards a complete version of what wine in California has to offer in a fairly responsible price range.
For the Chardonnay, grapes from the coastal region are blended with vineyards from Lodi, Mendocino and Monterey to achieve the most versatile possible blend of Californian Chardonnay.
Pino noir is a blend of Sonoma coast, Santa Rita Hills and the highlands of Santa Barbara and Santa Lucia. So a mix of different suitable terroirs to offer as versatile a Pinot noir from California as possible.
To offer a Cabernet from California that is as versatile as possible, various vineyards from Napa, Sonoma and Mendocino (Coast) are blended with vineyards from Lodi and Paso Robles.

Hun 3 amicale wijnen zijn:
Mon Frère California Chardonnay: whole bunches are pressed carefully. The juice is fermented under controlled temperature with selected Burgundian yeasts. Part of the wine receives malolactic fermentation, the rest does not. Then the wine goes into used French barrels for 10 months after which bottling. The wine has a light golden yellow color and creamy aromas of lemon, pear and white stone fruit nicely balanced with floral notes and impressions of nutmeg and vanilla. In the mouth we also find a nice interplay between fresh, mineral tones and full, more filming flavors that result in a soft but lively final.
Mon Frère California Pinot Noir , the grapes are picked by hand fairly early. Temperature controlled fermentation with as little manipulation as possible to preserve the fine and pure character of the wine. Fine blending is done only once to prepare the wine for barrel ripening. 100% French oak for 10 months. Vivid garnet red color with purple hues is the result. Lightly smoked nose of cherries, strawberries and plums. After swirling, notions of spices and a hint of roasted wood also come up. Delicately delicate and fresh in the mouth with soft and noble tannins that lets the blissfully refined final continue.
Mon Frère California Cabernet Sauvignon: The grapes are pressed separately and undergo a fermentation on stainless steel under controlled temperature. First cold and then at a higher temperature. The wine then receives a complete malolactic fermentation on its own yeast. The blend is then made and it continues to mature on a mix of French (90%) and American (10%) oak, 10% new. Garnet red color with deeper purple hues. Ripe nose of plums and black currants in combination with floral notes such as lavender and sage accompanied by a noble touch of vanilla. In the mouth, the fruity character is perfectly supported by ripe and fine tannins that leaves a pleasant structure in the mouth and lets you enjoy it for a while.